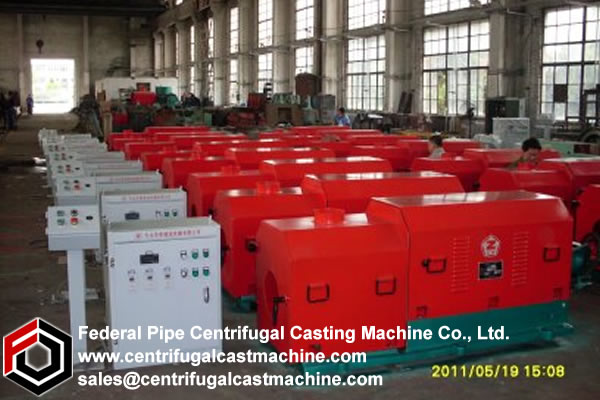 Our Cylinder Liner centrifugal casting machines are used to produce the Piston Sleeve, Air Compressor Cylinder Liners, Ship Engine Cylinder Liners, Locomotive Cylinder Liners, Truck Engine Cylinder Liners and Automobile Engine Cylinder Liners. The hot mold centrifugal casting machines range from simple manually operated equipment to fully automated systems utilizing programmable logic controllers (PLC) with functions of automatic pouring, automatic mold coating, automatic mold brushing and automatic extraction. The cantilever (horizontal shaft) type centrifugal casting machines are suitable to produce small diameter cylinder liners, while the horizontal type hot mold centrifugal casting machines are suitable to produce big diameter cylinder liners like air compressor and ship engine cylinder liners.


Key Features
PLC Automatic operation and labor saving.
Stepless Speed Governing plus frequency conversion motor force driving.
Produce castings with superior metallurgical structure.
Mechanical mold inner wall coating and cleaning.
Automatic extraction by hydraulic shaft.
Safety guard of shield cover to prevent the hot metal and cooling water from splashing.  
Centrifugal Casting Machine Models & Casting Specifications
| Model | Min. & Max. Dia. (mm) | Length (mm) | Total Load: Mold + Casting |
| --- | --- | --- | --- |
| J515 | 50-500 | 600 | 600kg |
| J516 | 70-600 | 700 | 2,00kg |
| J517 | 100-700 | 800 | 4,000kg |
| J518 | 100-800 | 900 | 8000kg |
| J5110 | 200-1,000 | 1,000 | 10,000kg |