New prp Centrifugal casting machine
Lower-speed centrifugal casting machine is mainly used to separate suspension of solid particles and liquid; Or emulsion in the two kinds of different density and mutual miscibility of liquid separation (such as isolated from milk cream); It can also be used to eliminate wet solid in the liquid, such as use washing machine to jilt dry wet clothes; Special speed tubular can separate different density of gas mixture, such as enrichment and separation of gaseous uranium hexafluoride: With different density and particle size of solid particles in a liquid sedimentation velocity of different characteristics, some sedimentation centrifuge for solid particles according to density and grain size grading.
Instruction: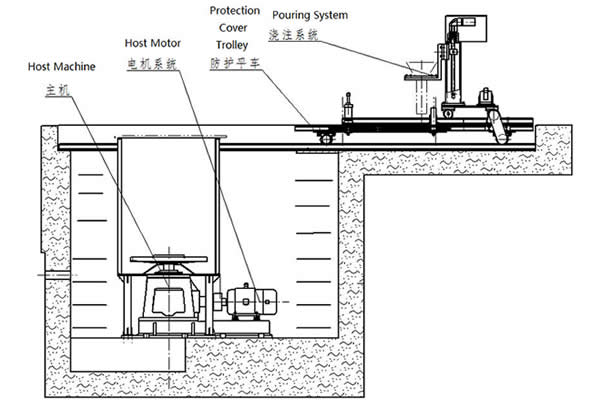 The table-Centrifugal casting machine are widely used in the laboratory or produce department fororganisms, medical, chemistry etc. The lower speed centrifugal machine with the maximum speed 4000r/min and be equipped with/without timer. It mainly be used for the appraisal radioactivity and separate cell or particle.
Operation:
Put the machine on a level and strong table and keep the working room clear ,dry and ventilated .Indoor temperture5- 32℃ is ok Open the power supply and make sure the indicator lamp is light .Shut the power switch. Open the cover of the machine, clear the rotor and container. Put the test tube (with same weight) into the machine .put down the cover of the machine .Adjust the timer as your requirement. Open the power switch. Adjust the governor as you requirement. Before you are going to stop the work, you should adjust the governor to "0"fist, and then shut the power supply .Clean the container and rotor, then put down the cover.
Safety Warning:
After you open the power switch, please shut the power supply and make an examination if the indicators not light Do not operate the machine the machine without rotor . When you are going to operate the machine, you should make the rotor is not corroded/hurt. Do not open the cover of the machine and touch the rotor when the rotor when the rotor is in moving. Do not operate the machine if the rotor is not balance assembled.
Safeguard and Maintain:
Do not put anything on the cover. After using, please clean the rotor and container, and put down the cover to keep the pollutant out If the machine have not been used for a long time ,please open the cover and dry the container before you are going to use again. If the carbon brush of the motor have been over 3000 hours, please change the brush avoid hurt of commentator . if the machine have been used for a long time natural weal and tear is normal our products are one your warrant and we can continue give you a good after-sale service after one year.
We can supply the machine with customer's special specification .And price to be negotiated .For inquiry, please contact with our head-office and branch-office.
http://www.centrifugalcastmachine.com/Hot-metal-mould-centrifugal-casting-machine/168.html