Casting frame structure of centrifugal casting machine
A casting frame structure of a centrifugal casting machine. Comprising (a) a hollow rotary drum defining a concrete-slurry charging space therein and being integrally provided with a bottom plate on the rear end thereof,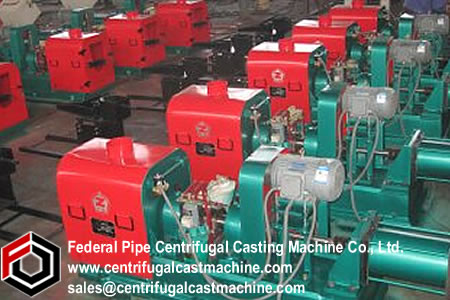 the rotary drum replaceably connected with a rotary plate driven by replaceably mounting the back plate to the rotary plate, the rotary drum having a feeder opening at the front end thereof through which a concrete slurry is supplied into the concrete-slurry charging space of the rotary drum, (b) a plurality of casting frames replaceably mounted on and along an inner wall of the rotary drum, (c) a plurality of casting frame positioning-and-fixing members arranged between the inner surface of said back plate of the rotary drum and axially outer surfaces of the casting frames for replaceably positioning and fixing the casting frames in place on the inner surface of the rotary drum. Due to such construction, the casting frame structure can be firmly mounted on the centrifugal casting machine and the casting frames can be readily and firmly mounted on the inner surface of the rotary drum.
http://www.centrifugalcastmachine.com/Iron-Pipe-Centrifugal-Casting-Machine/76.html