2016 Centrifugal casting machines
In the form shown in Figs. 10 and 11 the pressure members consist of endless belts, cords, or the like 26 inserted in the mold I and each carrying a roller 27 loaded by a weight 28. All the rollers 27 may be mounted on a communal shaft 29.
We claim: A machine for the manufacturing of hollow beams, pipes, poles, and other hollow bodies from concrete, mortar, and other plastic and hardening masses, by the centrifugal casting method, 4! comprising a set of supporting rollers of which at least one is a driving roller, a centrifugal mold bearing upon the same rollers, means for rotating the said driving roller, and means for pressing the mold against the rollers comprising arms -.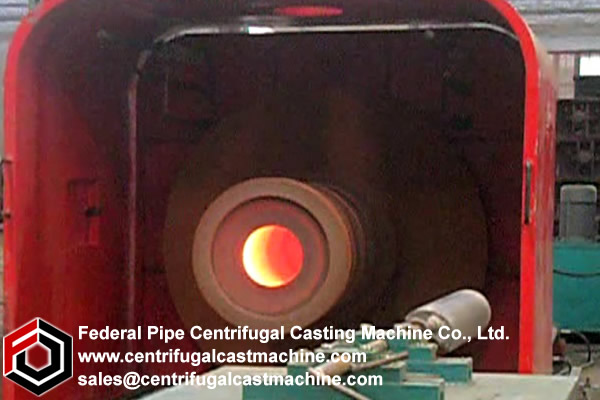 pivoted for movement in vertical planes, pressure rollers mounted on the said arms, intermediate the ends thereof, and adapted to bear upon the said mold, flexible traction elements detachably secured to the outer ends of the said arms, and means for exerting pull on the said traction elements to press the said rollers against the said mold.
http://www.centrifugalcastmachine.com/Iron-Pipe-Centrifugal-Casting-Machine/86.html